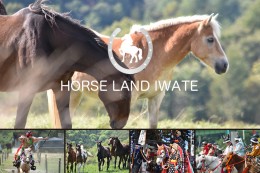 岩手県で開催されている馬に関係するイベントの年間スケジュールを掲載しています。
---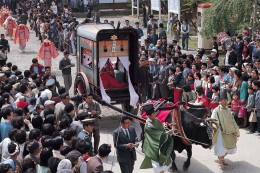 藤原まつりは、かつて東北地方を4代にわたり広く支配(1087年~1189年)していた奥州藤原氏にちなんだおまつりです。
毎年春と秋に開催され、春のまつり(5月1日~5日)は全国的にも有名です。
開催期間中、特にも圧巻なのは5月3日に開催される「源義経公東下り行列」です。
—–
-May- 【Spring Fujiwara Festival】 Hiraizumi Town
The Fujiwara Festival is based on the Oshu-Fujiwara clan, who successfully ruled the Tohoku region over four generations (1087-1189).
The event is held twice a year in spring and autumn, with the Spring Festival (May 1st – 5th) being a popular event across the nation.
The most spectacular part of the event is the re-enactment of Yoshitsune's Eastern Flight Processional held on May 3rd.
---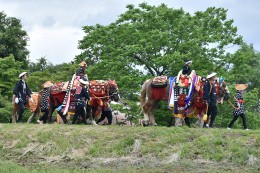 東北地方で信仰される馬の守護神「蒼前様」を祀るため、毎年6月に70頭近い馬が滝沢市の鬼越蒼前神社から盛岡市の八幡宮までのおよそ13kmの道のりを練り歩きます。
—– 
-June- 【Chagu Chagu Umakko】Takizawa City – Morioka City
 
Every June, a 13-km long procession with roughly 70 horses make an arduous path to the Hachimangu Shrine in Morioka from the Onikoshi Sozen Shrine in Takizawa as an annual prayer to Sozen, a guardian deity of horses that is beloved in the Tohoku region.
---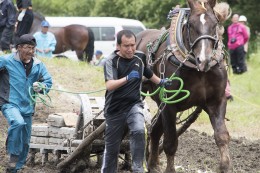 ※ 新型コロナウイルス感染症の感染拡大防止のため、令和4年度の開催は中止となりました。
馬が重りを乗せたそりを騎手と共に引き、直線150mのコース上にある2つの障害を乗り越えるレースです。
馬と人が一体となり疾走する姿は迫力があり、まさに勇壮そのものです。
—–
-June- 【Tohoku Horsepower Meet: Home of the Horse – Tono Tournament】Tono City
*The 2022 event has been canceled to prevent further spread of the novel coronavirus (COVID-19).
Horses in this race, alongside their horseman, while pulling weighted sleds, compete to be the first to clear a 150m course with two obstacles.
The combined effort of man and horse sprinting together to win the race is both impressive and truly a thrilling sight to see.
---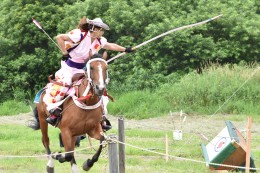 設置された3つの的を矢で射抜きながら制限時間内に直線のコースを駆け抜ける「スポーツやぶさめ」は、遠野市の夏の風物詩として有名です。
—–
-July- 【National Yabusame Tono Tournament】Tono City
Tono is well known for its summer tradition of "Yabusame Sports" in which competitors must strike 3 targets with an arrow while completing a straight course on horseback within a certain time limit.
---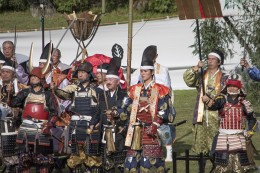 戦国時代の末期に、豊臣秀吉(のちに初めて日本全国を統一する戦国大名)が小田原(現在の神奈川県)へ侵攻をすることとなり、秀吉から豊臣軍として参陣するよう通達があったことから、この通達に従うか否かを決する軍議がこの地において開かれました。
このイベントでは、その軍議の様子を再現し、当時の雰囲気に思いを馳せます。
—–
– September- 【Karaumedate Emaki】Ichinoseki City
Around the end of the Sengoku Period, Toyotomi Hideyoshi (who would later become the first Sengoku Daimyo to unite Japan) would invade Odawara (now Kanagawa Prefecture). Hideyoshi sent official notices to join the Toyotomi army, and a war council was held here to decide whether to obey this order or not.
At this event, we recreate this war council, and you will be able to experience the atmosphere of the time.
---